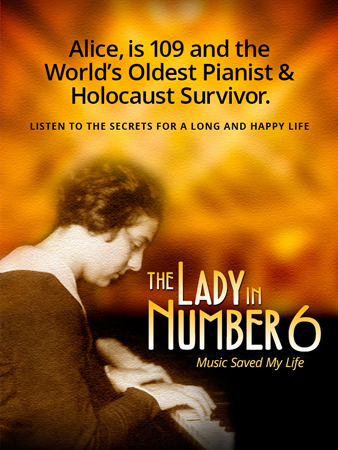 Watching the recent Academy Awards, I was intrigued by the winning film of the Best Short Documentary category, The Lady in Number 6.  A good part of the world knew the subject, Alice Herz-Sommer and her biography, A Century of Wisdom (2012).  Her life is remarkable not only for what she has endured – a survivor of the Holocaust or for what she has accomplished – at 109 the oldest known concert pianist, but for how she lived and the healthy effect she had on others.  Her biographer, Caroline Stoessinger, surmised Alice might have uncovered the source of eternal youth.
Alice, her friends and acquaintances describe what has impelled a biography, a documentary and her "fountain of youth". A glimpse into her life rewards us with a view of the effect of living with a focus on the best in the human spirit. Having just finished reading A Century of Wisdom, I heartily recommend picking up (or downloading) a copy! The book is a treasure, but space allows me to share only a fraction of what I highlighted.
First, a sample of thoughts from Alice:
Age is not so terrible. And I'm older than you. Rather than dwell on problems, why not look for life's gifts. Every day is a present. Beautiful.
No matter how bad my circumstances, I have the freedom to choose my attitude to life, even to find joy.
Love to work. When you love your work you are never bored. Boredom is unhealthy.
Gratitude is essential for happiness.
Stay informed. Technology is wonderful.I don't look at people as a group to be judged. I am interested in learning about the best in each individual.
And a few comments from those who have met her:
Alice is always ready for something new: a new thought, a new book, a new idea, new people. Her curiosity is insatiable.
"I come from God and I will return to God" has always been her spiritual theme song.
She never complains. It's no surprise that friends take their leave from her feeling refreshed and often uplifted.
Her influence has led me to a more peaceful life, clearer vision, contentment and gratitude for life itself.
The joy of choosing the good in every situation, in every individual contributed to a happy and long life.  Another woman also remarkable for her life and legacy, Mary Baker Eddy, noted about a century earlier, "Hold thought steadfastly to the enduring, the good, and the true, and you will bring these into your experience proportionably to their occupancy of your thoughts."
Alice held her thought to the good and enduring and true. May those who watch The Lady in Number 6 or read A Century of Wisdom be encouraged as I have been by her example.